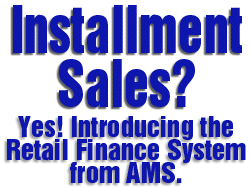 Finally, a complete computer system with integrated software applications for your in-house installment loans. Instantly the information you enter for an installment loan is posted, calculated and put to work in a variety of ways including general account information, contract calculations, reports and summaries, marketing applications, accounts receivable analysis and account maintenance. Some key features of RFS® include:
Account Information
name/address
employer
date of birth
days late
credit limit
security/co-borrower information
telephone numbers (home and work)
payment distribution
multiple loan access
spouse information
Contract Calculations
renewals, multiple loan consolidation
payoffs
printing of contracts/insurance forms
coupon book printing
fees
insurance
entering existing contracts
Management Reports & Summaries
daily, monthly and yearly summaries
year-end F/C statements
loan register reports
aging reports
insurance reports
ledger cards
uncollectible/court
Multiple Office Support
daily, monthly and yearly summaries
grand totals for all offices
Marketing
mailing labels
credit availability notice
birthday updates
Accounts Receivable Analysis
current
aged with statements
payment amortization distribution
days late report
late notices
finance charge accrual
A/R balance
promise date tracking
Account Maintenance
post payments by loan
adjust customer records
transaction history
transaction audit trail by employees
payments receipt printing
Flexible Support Database (Dynamic modification of:)
interest rates
insurance rates
tax rates
late charges
interest after maturity
Interface Capabilities
revolving charge/open accounts
general ledger
inventory
payroll
cash sales
layaways
credit balances
---
Optional modules available with the Retail Finance System are the Revolving Charge System and Inventory System. These modules are fully interfaced to RFS®, and draw from the common customer information database.
The Revolving Charge System handles revolving charge sales, layaway transactions and cash sales. The Inventory System module tracks full inventory information and provides item descriptions, prices and cost information to the other modules when available. Some highlights of each of the modules are:
Revolving Charge System Highlights
manages 30-day or revolving charges accounts
ability to print invoices at time of sale
multiple state rates for finance charges
automatic assessments of finance charges
ability to assess insurance premium on outstanding balances
printing of monthly statements
late notices
solicitation notices
integration into Inventory and Installment Loan system
tracking of cash sales
daily, monthly and yearly sales totals
Layaway System Highlights
multiple layaways per account
apply payments to specific items
marked as "paid in full", but not delivered or picked up
full payment and purchase transaction history
detailed report generation
Inventory System Highlights
full integration into Retail Finance System and Revolving Charge System
allows tracking of serialized, non-serialized and "lump sum" items
generates labels and tags for merchandise
generates and uses cost coding for labels and reports
fully tracks sales vs. cost by item, vendor and department
tracks individual items by location in multiple warehouses
tracks last and average costs and freight by item
reorder reports available
sales reports by item, vendor or department
easy entry of incoming merchandise by invoice
items can be identified by and in-house number, vendor's identification number and manufacturer's model numbers
bar-code printing and scanning available
full integration of sales screens insures automatic updating of inventory
sales screens allow full on-line browsing of inventory available in one or all warehouse
browsing can optionally hide all zero quantity (sold out) items
manages transfer of all items from one warehouse to another
The Retail Finance System, and each of these optional modules, reduces the time required for personnel to do a specific job. You can cut overtime and avoid hiring additional staff for increasing paperwork. And you'll enjoy better control of your receivables.
RFS® gives you quick access to vital information, freeing yourself and others on your team for more productive work. In short, RFS® will allow you to provide better customer service. Email us today for more information or to arrange a personal demonstration.