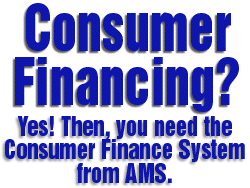 Accelerated Management Systems introduces an integrated system designed specifically for the financial services industry. It's called the Consumer Finance System®. CFS automates the origination, maintenance and management of consumer finance loans. With CFS, it only takes a few minutes to process a customer loan, including document processing of the promissory note, disclosure statement, applicable insurance forms and/or policies, and print the ledger card and payment book. Other key features of CFS® include:
Account Information
name/address
employer
date of birth
days late
credit limit
security/co-borrower information
telephone numbers (home and work)
payment distribution
multiple loan access
spouse information
Contract Calculations
renewals, multiple loan consolidation
payoffs
printing of contracts/insurance forms
coupon book printing
fees
insurance
entering existing contracts
Management Reports & Summaries
daily, monthly and yearly summaries
year-end F/C statements
loan register reports
aging reports
insurance reports
ledger cards
uncollectible/court
Multiple Office Support
daily, monthly and yearly summaries
grand totals for all offices
Marketing
mailing labels
credit availability notice
birthday updates
Accounts Receivable Analysis
current
aged with statements
payment amortization/distribution
days late report
late notices
finance charge accrual
A/R balance
promise date tracking
Account Maintenance
post payments by loan
adjust customer records
transaction history
transaction audit trail by employee
payment receipt printing
Flexible Support Database (Dynamic modification of:)
interest rates
insurance rates
tax rates
late charges
interest after maturity
Interface Capabilities
revolving charge/open accounts
general ledger
inventory
payroll
The procedures utilized by CFS® comply in full with state and federal regulations. And, as with all AMS products, you'll receive a complete evaluation of your needs with full installation, training and support by knowledgeable professionals. With CFS, you can finally enjoy all the benefits which were once only available to the "big guys."